Share this URL: https://techmental.peatix.com/
Event is FINISHED
TECH TARIK 2019: Singapore's Mental Hell or Health?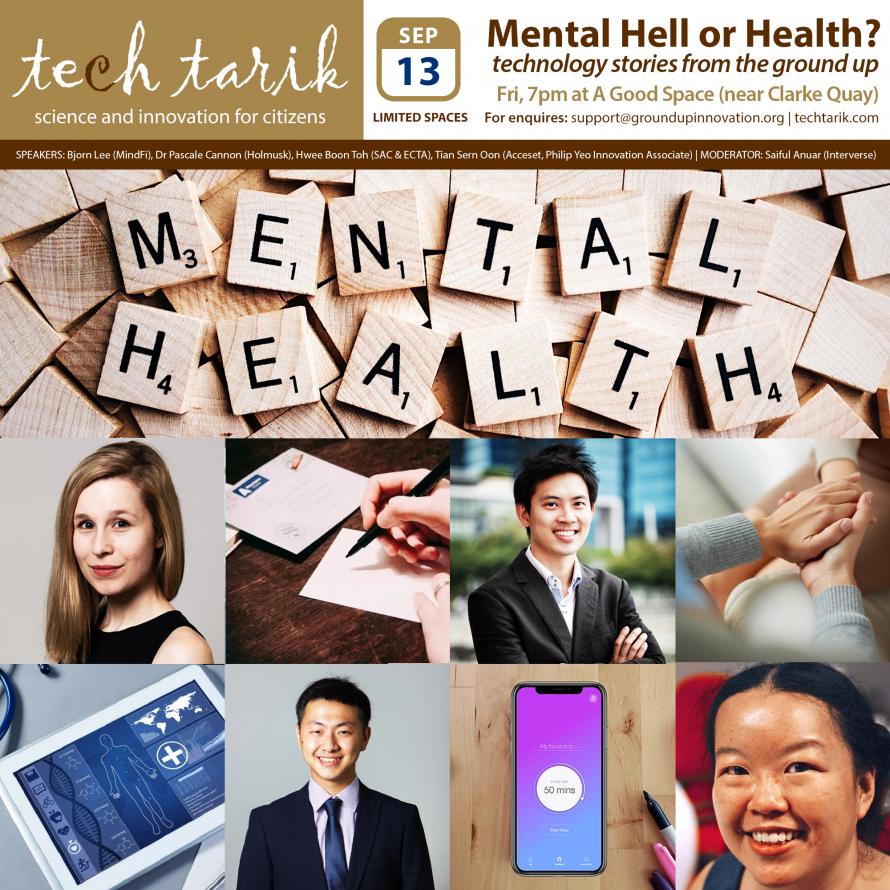 EXCLUSIVE. TECH TARIK is BACK! With a new topic, to analyse the role of technology in our collective effort to upkeep our mental health. This Friday the 13th, as part of World Suicide Prevention Day, let's confront the 'horrors and nightmares' related to mental health and its intersection with technology. Here's the quicklink to share with friends, families or colleagues: techtarik.com

FOOD included. Follow Facebook page for updates: http://bit.ly/techmentalFB

For non-Paypal / credit card user: We accept bank transfer to POSB 056-92764-6 or PayNOW and PayLAH to 87558790. Update us the proof of transfer by WhatsApp or email support@groundupinnovation.org

Announcing our diverse entrée for TECH TARIK:
[1] Bjorn Lee, Founder & CEO of MindFi, a mental wellbeing platform that trains mindfulness to companies and professionals. His solution focuses on mindfulness in a practical format that is unobtrusive to user's lifestyle. He previously worked in technology startups in Silicon Valley, China, Vietnam and is a proud alumNUS.
(https://www.techinasia.com/eyeopening-meditation-app-singapore-hopes-world-productive)

[2] Tiansern Oon is the CEO of Acceset, an organization which aims to improve access to mental health care by integrating professional help resources to anonymous peer-to-peer support conversations. He clinched the Queen's Young Leaders Award by Queen Elizabeth II herself, in recognition of his positive impact on community.
(https://www.straitstimes.com/singapore/education/singaporean-duo-win-british-award-for-young-leaders)

[3] Dr. Pascale Cannon, Data Scientist from Holmusk. She develops semi-mechanistic models that utilise the latest machine learning techniques to simulate the progression of neurodegenerative diseases. Holmusk combines data science-driven insights to deliver personalised therapeutics, taking into account individual needs to further enhance clinical care.
(https://www.mobihealthnews.com/content/asia-pacific/holmusk-and-janssen-r-d-partner-develop-digital-mental-health-strategy-china)

[4] Hwee Boon Toh, A Master Clinical Member, a Registered Counsellor, and a Registered Clinical Supervisor of the Singapore Association for Counselling (SAC). She spent the last 11 years counselling children and adolescents in school settings, as an external counsellor for Employee Assistance Programs (EAP), a clinical supervisor for counselling interns and professionals, and owns her private practice and a counselling resource company. (http://www.hweebs.com.sg/)

Moderator:
[1]Saiful Anuar, Interverse. He is interfaith activist for more than 13 years and regularly facilitates dialogues and trains young interfaith leaders in youth groups. He represented Singapore at the 10th World Assembly of Religions for Peace International in Lindau, Germany. He is comfortable with unpacking, enabling deep dive and repacking taboo and controversial topic.(https://www.linkedin.com/in/saifulanuarsg/)


For this iteration, we want to discuss and analyse different intersections of mental health and technology. Ultimately, we want to answer: "How can I take care on my own mental health better? How do I accommodate others better, i.e through technology?" TECH TARIK fosters respectful, yet no-holds-barred discussion on subject matter.

Allow us to share my motivation in planning for this public sharing. We have a few close friends, whom we have thought to be strong and steadfast, fell into mental pit after specific incidents. When asking ourselves, what else we can do to support the people that matters, we were truly at a loss. Many publication and experts point to convincing friends or families to seek help as soon as they can.

In our research to find answers, we came across many technological help, such as meditation app or mental wellness app. Growing up, several of us are instilled the values of self-sufficiency and seeking help seems to be a last-resort way. We would like to think that there are many individuals out there who also subscribe to this belief who are holding capacity as mentor, parents or emotional pillars of support. We would like this sharing to analyse if technology can help in the upkeep of mental well-being and also other intersection between mental health and technology, a bridge before seeking professional help, or is technology compatible with mental wellness in the first place.

Due to limited space available, kindly express your interest and get your tickets soon. It would help us reduce food waste too, as we can cater to exact size of audience. Soak in the knowledge in 'Central'-ly located area. See you then :)


This event is co-hosted with A Good Space – where changemakers flourish as a community to imagine and create experiences that expand perspectives across diverse social issues.

From Poverty Simulations to a Feast with Seniors, come learn about a wide range of social issues through innovative activities. To learn more and join the community, visit their website at: agoodspace.org

In registering for this event, you consent to the collection and processing of your personal information for the purposes of this event only, in accordance to the Personal Data Protection Act (2012). To withdraw your consent, either press unsubscribe button or email: support@groundupinnovation.org

read more
Fri

Sep 13, 2019
7:30 PM
-
10:00 PM
SGT
Add to Calendar
Venue

A Good Space, 04-88, NVPC, Central
Tickets

BRING A FRIEND OFFER: 2 Seats (Usual: $50)

SOLD OUT

$39.00

STANDARD: 1 Seat

SOLD OUT

$25.00

EARLY BIRD: 1 Seat

SOLD OUT

$18.00

13-25 YEARS: 1 Seat (Show IC/Student Pass for entry)

SOLD OUT

$15.00

OTHER: Bank Transfer/PayNow/PayLah

FULL
Venue Address

6 Eu Tong Sen St, Singapore 059817

Singapore
Want to find more groups and events like this?